Attending your high school prom is an experience you're likely to never forget. So along with the fashionable gowns and tuxedos, why not go all out with prom limo rental from Noble Transportation & Limousines? You and your friends will make quite an entrance as you arrive on the scene in a sleek prom limo and pose for your photo shoot. What's more, your safety will be assured when you leave the keys at home and ride in one of our stylish prom limos instead. Let us add to the glamour of your special night with a prom limousine as safe as it is stunning. Call us today to set up your prom limo service!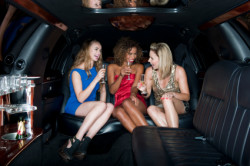 Since 2007, Noble Transportation & Limousines has been helping high schoolers throughout the Orlando region make magical prom memories. We're proud to be the prom limo service you can turn to for:
15+ years of experience
Pristine prom limo rentals
Punctual and professional care
Safe, well-dressed drivers
Full licensing, bonding, and insurance
Fair pricing and free estimates
And much more!
We have several options for prom limo packages, from classic black sedans to a stretch limo rental with room for four couples. Regardless of which prom limo hire fits your needs best, you're sure to appreciate our well-appointed cars and our sharply dressed drivers. After all, when you're dressed to the nines, you want your prom limousine chauffeur to look and fit the part.
Your Safe Choice for Prom Limos
On prom night, you don't want to get caught up in the excitement and forget about the importance of safe driving. That's why it makes sense to hire a prom limo service and leave the steering wheel to a trained, experienced driver. With Noble Transportation & Limousines at your service, not only will you have the extra thrill of being chauffeured around in an eye-catching prom limousine, but you'll also get the benefits of our safe driving. Our limo operators are knowledgeable, respectful, and responsible, and we'll take excellent care of you and your group both before and after prom. To reserve your prom limo package, call or e-mail us now.
In the Orlando area, there's one thing parents and teens can agree on: Noble Transportation & Limousines is a great choice for prom limos. Contact us anytime to get a free, no-obligation price quote on our affordable prom limousines. You'll be glad you did!